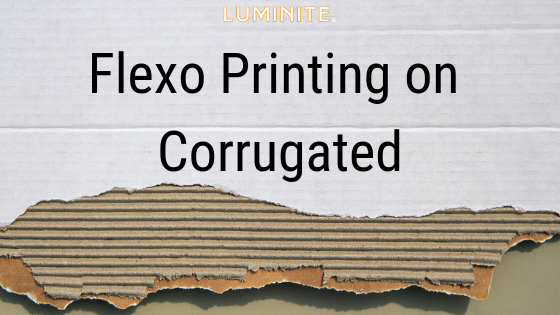 Corrugated packaging and printing have come a long way in recent years. Although durable during shipping, corrugated substrates are spongy and can be easily crushed during an indelicate printing process.
As a result, businesses once had to settle for product shipping and display boxes printed with dull, low-resolution images and text that were less appealing to consumers.
Today's advanced technologies and materials have revolutionized corrugated packaging printing. Thanks to these advances, plus the ever-increasing capabilities of flexo, brands can simultaneously use corrugated product boxes to increase product visibility and promote a brand's awareness. This is, of course, in addition to benefiting from the material's combination of lightness and durability, which is ideal for shipping.
The variety of available processes and materials have created several methods for printing on corrugated material. Types of printing on corrugated boxes include:
Flexography (flexo)

Offset lithography (litho)

Screen printing

Digital printing
Due to its versatility, flexographic printing has become one of the most commonly utilized.


What Is Flexo Printing?
In Flexo printing an imaged sleeve, cylinder, or plate applies graphics or text onto a substrate. Flexo printers use image carriers made from elastomer or other polymer materials. These image carriers have raised areas which depict your artwork and are adhered to rolling cylinders.
Ink is metered directly onto the image carrier, by another cylinder called an anilox. As the image carrier cylinder rotates, it transfers the image onto a moving substrate.
Flexo works well for printing directly onto corrugated, or onto another substrate, which is later laminated to the final product.
A speedy printing process, flexo uses quick-drying inks and works on many types of absorbent and non-absorbent materials. Thanks to its versatility, resilience, and quick print times, flexo is widely considered the best printing option for high-volume custom corrugated jobs.
Examples of corrugated products appropriate for flexo printing, include:
Shipping boxes

Pre-printed liner board

In-store displays

Subscription boxes

Jewelry boxes

Point of purchase displays

Clothing boxes

Bakery boxes

+ More


Corrugated Packaging Printing Methods
There are two primary methods to flexo print on corrugated materials:
Direct printing

Pre-printing
As its name suggests, direct printing prints directly onto the corrugated final product. Pre-printing prints onto a smoother substrate, which is then laminated to the final product.
Flexo printing's versatile image carriers easily handle either method.


Key Considerations for Corrugated Packaging Printing With Flexo
The most important components to consider in corrugated packaging design include:
Artwork specifications

Setup considerations

Ink type

Image carrier materials

Number of image carriers needed
Careful consideration of these corrugated printing tips will help you budget for product packaging and printing costs, design your artwork, and select an ideal printing method.


FLEXO COLOR GUIDE FOR PRINTING INKS ON CORRUGATED
When flexo printing on corrugated boxes, each color requires a different image carrier. A four-color print requires four image carriers. Remember to consider the cost of color when designing your artwork. Factor in the price of purchasing and setting up multiple image carriers, and inks, into your packaging budget.





In cases when you are

printing directly on corrugated

, it may be difficult – not impossible – to produce some effects, such as gradients and tints. When preparing an artwork file for direct flexo corrugated printing, the aid of a professional designer may help you achieve quality results.





When selecting colors for your design, consider the color of your substrate, as ink will appear either darker or lighter when applied to a brown or white surface.





It is recommended to keep the graphics simple with flexography printed directly on corrugated. With direct printing methods, photo-finished images can be difficult to accurately render.





The higher the grade and the finer the fluting of the corrugated you select, the superior the registration and quality of your print work.





If you are

printing onto a smooth substrate

and then laminating that onto your final product (pre-printing), you will be able to render more complex designs.




When finalizing your design, remember that new graphics require new printing image carriers. To reduce costs, love your package design before purchasing image carriers.


Ink Choices for Flexo Printing on Corrugated
Choosing the right ink for your project seems like a no-brainer, but ensuring that you have the right ink for your specific project will help you avoid poor print results and costly re-works.
Different types of flexographic inks will work well on different corrugated products. Ink compatibility depends on the surface tension of the substrate and the rest of the ink chain.
With the highest surface tension of all, water-based inks are commonly used for corrugated substrates.


Flexo Image Carrier Choice
Flexographic image carriers are generally composed of two different materials:
Both image carrier fabrications have their own set of benefits and drawbacks, but printers typically prefer elastomer image carriers for most corrugated printing jobs.
Not only is the elastomer manufacturing process very environmentally-friendly, these image carriers also feature superior ink transfer and resiliency -- making them more cost-effective for the high-volume print jobs required in packaging.


Corrugated Packing Printing – Yes, It Can Be Done With Flexo!
Whether you choose to render high-quality, photo-like images with a pre-printing flexographic process or decide to print graphic designs directly onto your corrugated packages, flexo can work for you.
With its versatile capabilities, time-tested processes, and durable printing materials, flexo can render your company, brand, and products in stunning color, while building consumer trust and brand recognition for years to come.