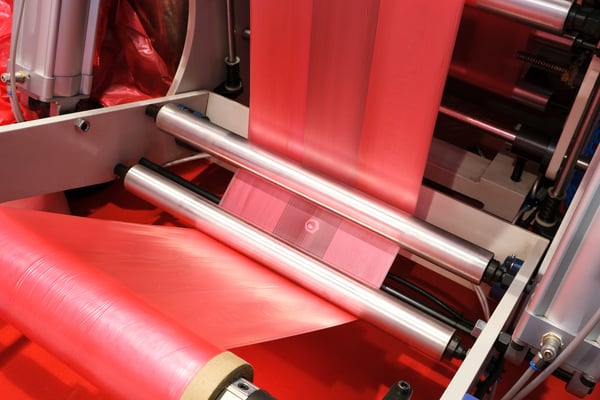 Purchasing a flexo printing machine is a little like buying a car. You want the right balance of safety, functionality, and quality without breaking the bank.
While buying a flexo printing machine is undoubtedly a major investment, there's nothing to fear. As long as you know what to look for and how to pair your new machine with other flexo printing equipment, you'll be running those presses hot in no time.
This blog will detail the tips and tricks to keep you on track while hunting the market for a good flexo printing machine.


A Flexo Printing Machine for Every Substrate
The first thing to keep in mind is the kind of substrate you'll be printing on. With flexo, printers can use:
Not all presses work with all substrates, so be careful about which you choose.
Even if your business doesn't currently print on these substrates, you'll want to consider if the machine you're looking at is capable of printing on them. Who knows, in the future, you might decide to expand product lines.


Tips for Choosing a Flexo Printing Press
As you research flexo printing machines, keep these four main criteria in the back of your head at all times:
Operation
Functionality
Quality
Cost


OPERATION
Make sure that your business is ready for the new flexo machine. Are you going to need a larger facility to house this new flexo machine? Will you have to train your employees or hire someone new?
Thinking about the production process can be helpful when trying to decide what flexo press to get. Will this new machine speed up your current production process? Or will you have to readjust to work around it?
While these might not seem like significant considerations, they might make a big difference for the setup cost.

FUNCTIONALITY
Flexo printing machines, like cars, can come with many additional features to increase functionality. Depending on your business' needs, you may want to consider a machine with:
A conveyor system
Extra drying system
Web cleaner
Automated inking systems
When examining different potential features, don't just think about what your business needs right now, also consider what your needs will be in a few years. In five years, will your business need additional flexo printing features?
Don't just opt for the bare minimum when it comes to a flexo printing machine, because in the long run, additional features may make your printing process more efficient and save you money.


QUALITY
Anytime you make a purchase this large, buying a quality piece of equipment is of the utmost importance.
To ensure you have a quality printer, get a machine from a well-known and reputable company. There are several flexo printing machine manufacturers that have strong reputations and offer warranties on their equipment. Think about companies like Mark Andy, Nilpeter, and MPS.


COST
Even though cost is the last on the list, it's never the last thought in anyone's mind. Let's face it, cost is probably the biggest factor when it comes to purchasing a press.
With cars, you might be paying extra for a brand (think Audi vs Ford). But with flexo printing machines, you pay for quality. Don't try to save by purchasing too few features or getting a low-quality machine.
Machines from unknown manufacturers or used flexo printing equipment might have functionality issues or voided warranties. Purchase new and work with sellers to find financing or other purchasing solutions that don't require sacrificing functionality or quality.


Improve Efficiency and Functionality with Other Equipment
Once you have a flexo printing machine, consider peripheral equipment that can improve your machine's efficiency and functionality.
Elastomer sleeves improve efficiency by reducing setup time and minimizing waste. They're a sustainable printing solution that are soft, flexible, and durable -- up to three times more durable than other materials in some cases. They also improve reliability when using solvent-based inks because the sleeves don't swell.
In addition to elastomer sleeves, you might also consider specific anilox rollers for flexo printing and flexo inks depending on what you're printing.
But outside of additional equipment, consider adding prepress solutions. Having an expert help with graphic design, color management, and print prototyping can reduce waste and lead time.


Upgrade Your Business with the Right Flexo Printer
The research phase of choosing a new flexo printing machine can take some time. Don't rush this decision, because the flexo press that you choose will have a significant impact on your business' operations.
Follow these tips, and you should find a flexo printing machine that will serve you well for a long time.
Want to talk more about the best flexo presses and equipment? Reach out! Our team loves to talk about all things flexo.