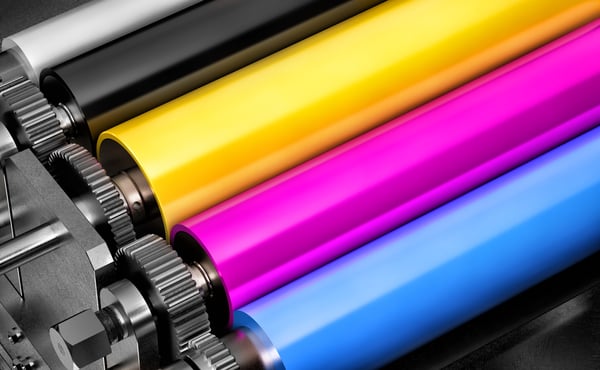 As the term suggests, a sustainable printing process seeks to promote environmental conservation on a broad spectrum. It not only employs eco-friendly production processes; it also raises the stakes higher by adopting sustainable packaging strategies.
Investing in sustainable printing equipment can have long-term implications on your bottom line, your brand image, and the environment.

Why Sustainable Printing Equipment?
Though expensive, sustainable printing equipment is a cost-effective option in the long-run. It's usually optimized for waste reduction and less energy use, which cuts your production costs.
As the print industry starts to embrace sustainable business practices, you don't want to miss out on the trend. Sustainable printing boosts a brand's image as consumers are drawn more toward eco-friendly products.
But that isn't all. Having eco-friendly printing equipment improves process efficiency, leading to increased productivity. For this reason, it makes economic sense to invest in sustainable printing equipment.

Flexo Equipment for Sustainable Printing
Flexographic printing is already one of the most efficient printing methods, so boosting its sustainability is a large undertaking. However, a flexo printing machine cannot achieve optimal efficiency in resource consumption and process output alone. The process requires additional sustainable printing materials to enhance the machine's functionality and achieve optimal results.
While there is a plethora of sustainable printing materials and equipment, some of the most popular/beneficial are:
LED UV ink-drying systems

Elastomer sleeves

Hybrid printing machines

Water-based inks

LED UV INK DRYING
LED UV ink-drying systems are a convenient technology that speeds up the production process and boosts energy efficiency.
UV inks are what are known as curable inks, meaning they can be dried almost instantly under an ultraviolet light. This process cuts down on the production time and improves the overall productivity of the system.
However, traditional UV lights often create excess heat and consume valuable energy, so it's not the most efficient process. But, you can implement LED lights that emit less heat than traditional UV lights and consume a fraction of the energy.
UV inks don't produce ozone or volatile organic chemicals (VOCs). This makes the drying and cooling process environmentally-friendly.
ELASTOMER SLEEVES
Elastomer sleeves are another must-have sustainable option that helps improve printing efficiency. Their structural makeup enhances their flexibility and makes them highly durable.
Elastomer sleeves are engraved in-the-round (ITR) and have a non-sticky back, which reduces setup time. Plus, the durable nature of the sleeves reduces the need for harsh cleaning chemicals after every print run. Instead, sleeves can be cleaned with warm water, dish soap, and a soft-bristled brush.
Overall, elastomer sleeves are a durable and cost-effective solution that allows for continuous printing while minimizing waste.

HYBRID PRINTING MACHINES
Hybrid printing machines have superior features that provide for an efficient printing process. Flexo printing machines are one of the leading hybrid machines that combine high productivity and environmental sustainability. They are dynamic machines that print on both porous and non-porous substrates using a variety of ink types.
Flexo printing machines cut down on production time because they're highly automated, allowing for continuous printing. They also use safe ink and ink-curing processes, which enhances the safety of both the handling team and the end user.

WATER-BASED INK
While not a piece of equipment per se, another must-have on your sustainable printing materials list is water-based ink. This type of ink is eco-friendly and can be used with elastomer sleeves. It has the highest surface tension, making it ideal for use on highly absorbent substrates.
Water-based inks emit no VOCs. This is better for the environment, yes, but also eliminates the need for expensive VOC-capturing equipment.

Processes Are Just as Important as Equipment
Acquiring sustainable printing equipment and materials is just one side of achieving sustainability. The printing processes are equally important. At Luminite, we look into every detail to ensure overall sustainable processes.
Reusable sleeves - We build custom elastomer sleeves so that if the client needs another, smaller print, we can grind down the old sleeve and engrave a new design.
Adjustable sleeves - When setting up a customer with sleeves, we give them a gear range, whose bases can be used for multiple gear tooth sizes. For instance, instead of having 28 bases for your plates, you can change the gear and use a single air mandrel.
Reducing emissions - Heat exchangers are thermal oxidizers used on the lasers that engrave sleeves and capture the laser's exhaust. They burn that residue and provide a cleaner output of exhaust.
Recycling - All shipping materials are recycled/recyclable.


Building a More Sustainable Pressroom
Having the right materials and equipment is important for building an eco-friendly pressroom, but so is having the right mindset. If you create your printing and business strategies around reducing waste, then you can pass those savings on to your customers. Contact Luminite today to find out how you can make your pressroom more eco-friendly.